Therm
i

Flex
is unique burner
with two functions in one :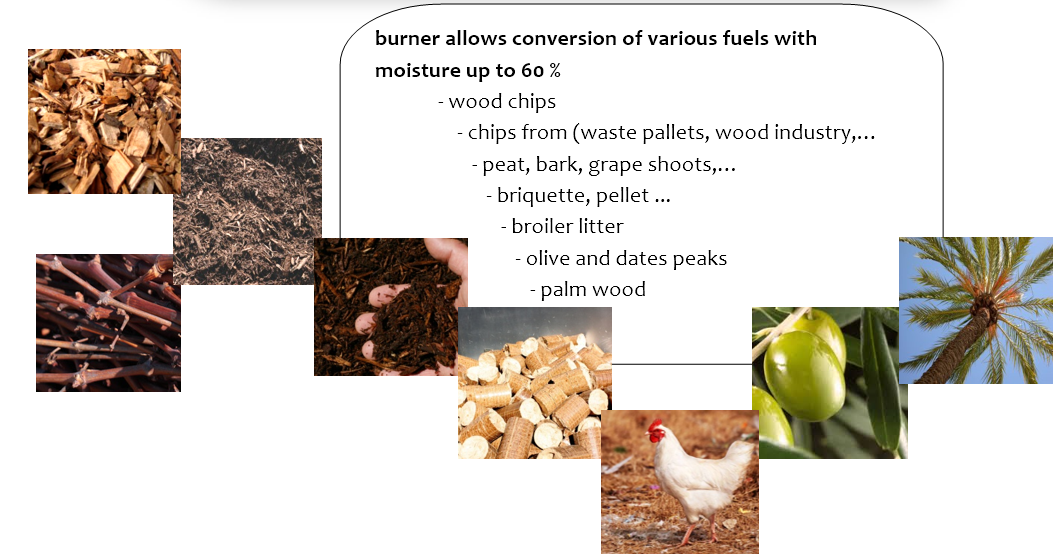 Therm
i

Flex 300 kW
Combustion Principal

Second part of grate = gasification zone, here material loses mass and converts to the gas. The temperature of the ash is controlled by the primary air and does not exceed 700 ° C.
First part of grate = drying zone
, the fuel is moved , loses moisture and starts to convert into embers.
Primary air
and hydraulic moving grate mechanism.
Dosing of the
burning material
through a fire protection zone.
The controlled amount of tertiary air is turbulently mixed with the produced gas and provides optimal mixture for combustion with temperature between 950-1100°C.
Exit from the burner,
this part enters the body of the boiler.
Secondary air
creates
an air vault and leads
the gases into the burning zone inside the burner.
Third part of grate = final gasification zone
with outgoing ash transport screw. Due to the construction of the grate and controlled gasification, ash is free-flowing without slag.
Therm
i

Flex

100 – 1500 kW burner ability: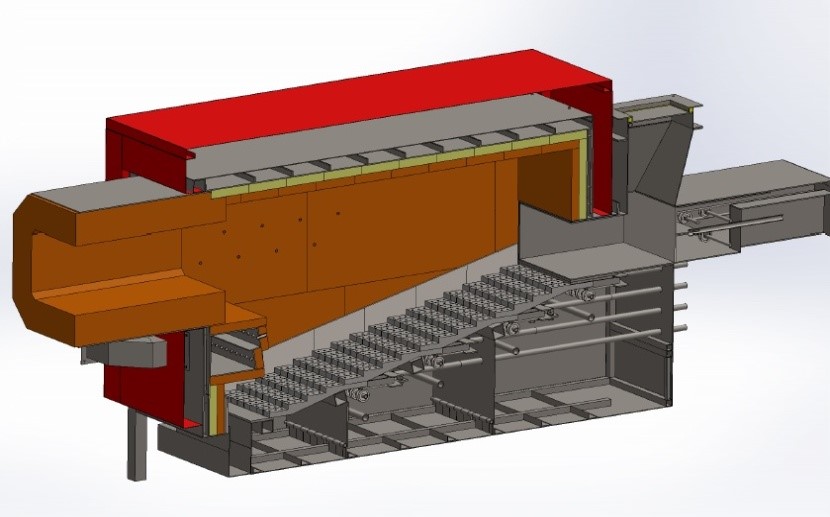 Burner component:
Burner has special longitudinal moving grate, made of material
alloy EN-GJL-250 + Cr + Mo
The burner has more in-line, rapidly replaceable insulation with a temperature resistance up to 1450 ° C.
3 different airs: primary, secondary and tertiary , coming through nozzles with and regulated by fans.
Automatic hydraulic moving elements, and automatic ash cleaning with pushing screw.
– allows to process of various fuels with moisture up to 60 %
this allows us construction of the burner, the shape of the grate and regulated air volume , the input material falls on embers which is enriches the rapid and short drying (evaporation of water) of fuel and next gasification
– complete combustion
combustion of produced gas with the required amount of air allows complete combustion
– fully automatic regulation with maximum efficiency, combustion system does not require any manual regulation
– less ash to discharge
in third part of burner we complete gasification process with controlled temperature and primary air and cinders is considerably reduce to form of ash without slag (clinker)
– maintenance
the burner design allows quick and easy access to all parts of the burner
– size
Sizes of the burner are adjusted to the project requirements in the range 100-1500kW